Latest News
---
One Summer Service
From this Sunday , 2nd July until 13th August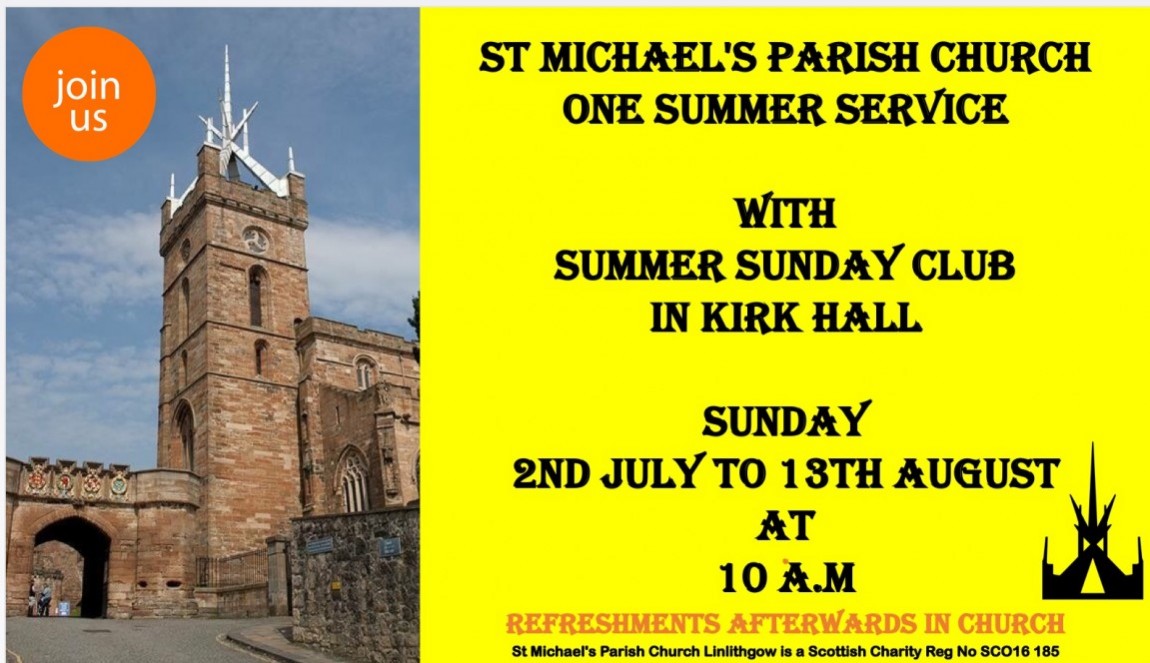 Sunshine Singers
Sunshine Singers: next sing-song Friday 30 June at 2.30pm in St Michael's Hospital.
Thursday for Coffee
Last meeting on Thursday 29 June resumes again on 7 September.
Come along and enjoy a cuppa, home baking and chat with the group which meets on Thursdays in Cross House between 10–11am. All are welcome.
STEWARDSHIP OF TALENTS 2017
This is the third year of our Stewardship series. During 2017 we will focus on the stewardship of talents as part of the three-year cycle of review , having already considerd time and treasure.
We issued a letter from Stewart along with the summer Crosswind. You can view the letter here.
The Stewardship of Talents article from the Spring Crosswind is available here.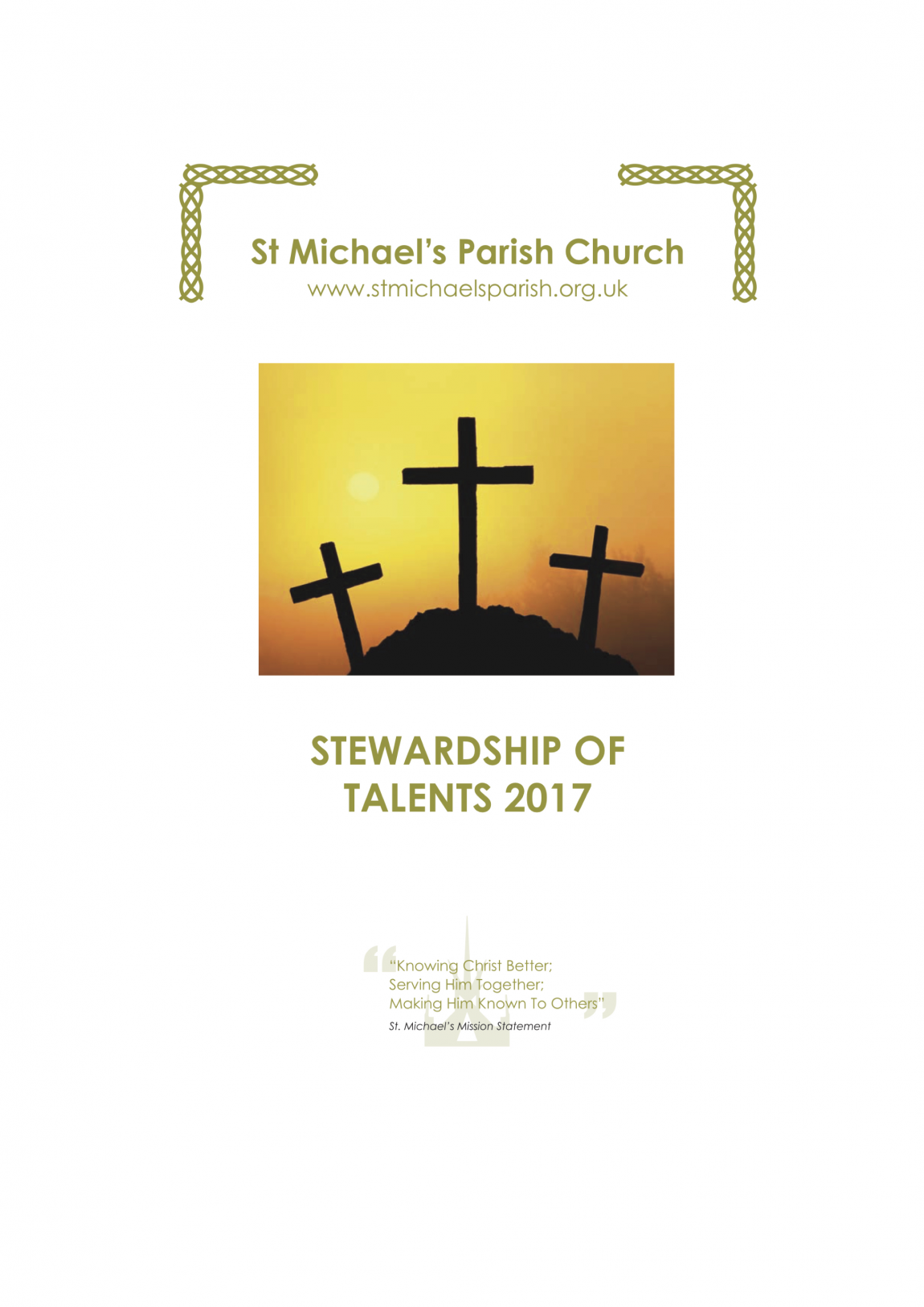 Housegroup
Housegroup resumes Friday 1 September
Chapters Book Club
resumes Thursday 7 September.
Orders of Service
---
Weekly Intimations
---
Knowing Christ Better
Housegroup
Housegroup resumes Friday 1 September
House Groups
For more information about fellowship groups meeting within St Michael's, please call Alison Miller 844992, Margaret Henderson 844787 or Barbara Thomson 845705.
The Help Centre
Offers information covering many concerns. Wondering where to access support for yourself or another? Tel 842646, or look at www.helpcentre.org.uk
Bereavement Support
The Bereavement Support Team offers confidential one-to-one support with the aim of helping you make sense of the painful and bewildering array of responses to bereavement, and to help you adapt to the loss. Positive Pathways informal support group meets fortnightly in the Canal Tearoom. Contact Sheila Rae 847538 or sheila.ruth.rae@gmail.com.
Making Him Known to Others
Life and Work
is now ready for collection in the north aisle.
Summer Sunday Club
Are you good at telling stories, art work, photography, drama, baking? Can you spare time to help prepare craft activities? Could you come one Sunday during the summer and spend time with the children as they have fun learning about Jesus? If the answer is yes to any of these questions, please contact Anne Sutherland 845868 annesutherl4nd@gmail.com who will be delighted to hear from you.
CD's-Church Service
If you would like to borrow a recording of previous services, you will find CDs at the Church shop. A recording of the sermon is to be found weekly on podcast on the Church website.
Serving Him Together
Time of Stillness
On Thursdays at 2pm we meet in St Katherine's Aisle (entrance via south door during winter opening hours). Come and discover what 15 minutes of stillness can do for you. Nothing will be asked of you. Tea and cake afterwards. Info from Cheryl. All welcome.
General Notices
Linlithgow Christian Aid Group
A huge thanks to all who braved the doorsteps and to all who gave as generously as in past years. This year's total, with some envelopes still to be opened, is £14,560. This includes Gift Aid monies of approximately £1,500. St Michael's Toddlers Group made a handsome donation and another very sizeable cheque was received in memory of Mrs Blundell. Christian Aid is most grateful.
Gift Aid Giving
Did you know that the church can claim 25p for every £ given if the donor is a UK taxpayer and signs a Gift Aid declaration? This is true whether payments are made by regular standing order, via freewill envelopes, or by other identifiable means. For more information, or to set up/amend an existing arrangement please contact the Gift Aid Convener in confidence - Andrew Jones andrew59jones@gmail.com or on 01506 840914.
easyfundraising.org.uk:
Did you know that when you shop online you could collect free donations for the church? Through our new link with easyfundraising whenever you buy anything online – from your weekly shop to your annual holiday – you could be collecting donations for the church. easyfundraising has over 3,000 shops and sites on board ready to donate, including Amazon, John Lewis, Aviva, thetrainline and Sainsbury's – and it doesn't cost you a penny extra! It's as easy as a, b, c... Head to www.easyfundraising.org.uk/causes/stmichaelslinlithgow and join for free. Every time you shop online, go to easyfundraising first to find the site you want and then to start shopping. After you've checked out, that retailer will make a donation to the church at no extra cost to you whatsoever! There are no catches or hidden charges and St Michael's will benefit from your shopping. Further details from Andrew Jones andrew59jones@gmail.com or why not give it a try the next time you log on to go shopping?
Messy Church
Messy Church is growing in numbers and needs two more Messy helpers in May, October and December, 3.30–7pm on a Saturday. If you can help, please leave your name with the church office.
Our Sunshine Sing-along for Memory
Takes place in the Kirk Hall on the second Thursday of each month 12–1.30pm. All those living with memory loss and their carers are welcome. No church connection necessary. Light lunch and singing. Further info from Cheryl or Norma Costley 01506 843255. Next Sing-along 13 July.
Need Double Beds
St Vincent de Paul/Bethany Trust urgently needs double beds. These are not resold but used when rehousing the homeless. If you can help, the bed will be collected from your home. Please call Jerry on 07942873190.