Latest News
---
Blue Christmas Service
Christmas Eve Celebration
Advent
The Greatest Gift
God's gift to us, the Greatest Gift, is the theme of the Church of Scotland's 2018 Advent calendar. You are invited to sign up for a daily email or check the online Advent calendar for some daily inspiration at www.churchofscotland.org.uk
Aged 18-30?
Come and get together at an informal Christmas Eve Celebration straight after the Christingle Service in the Adam Room (7.30-8.30ish). Light refreshments and games, but most of all chat! Please contact alisonleesmiller@gmail.com. Parents please pass on!"
Festival of Christmas Trees 2018
After another successful festival of Christmas Trees we've put a load of photos on our Facebook page.
Lighting Up Red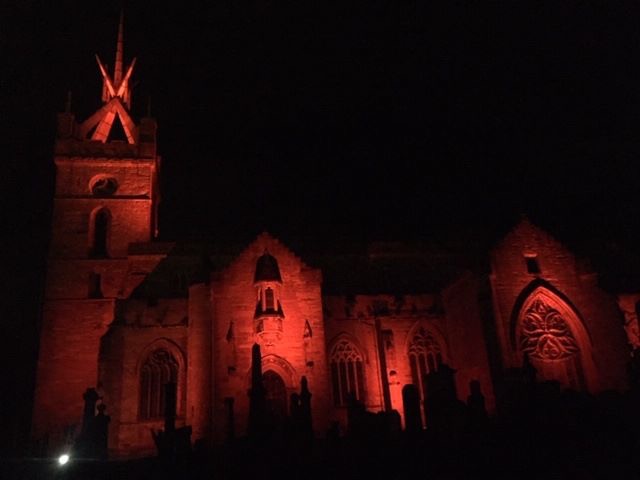 We were proud to take part in the Lighting Up Red campaign.
We were the only building in West Lothian to participate but hopefully more will join in next year.
Poppy Scotland had been aiming for around 100 locations across Scotland and ended up with 190 (two of which were in England).
There were 30 Churches; 14 Government Buildings/Town Houses; 12 War Memorials; 10 Castles; 9 Hotels; 8 Clocks; 6 Schools; 5 Universities; 4 Cathedrals; 4 Abbeys; 4 Lighthouses; 3 Theatres; 2 Bridges and 1 Royal and Ancient Clubhouse!! The more unusual locations included a wind farm, a phone box, a crane and a handful of Alpacas!
Orders of Service
---
Weekly Intimations
---
Knowing Christ Better
Stewardship of Time
Lord God,
At this time of thanksgiving we ask for your blessing that we might work for peace, pray in hope and be a reconciling presence which this world and every home and community desperately needs. Amen
Housegroup
resumes Friday 11 January 2019. All are welcome to join this informal group. Please call Barbara Thomson 845705 for more details.
The Monthly Prayer Calendar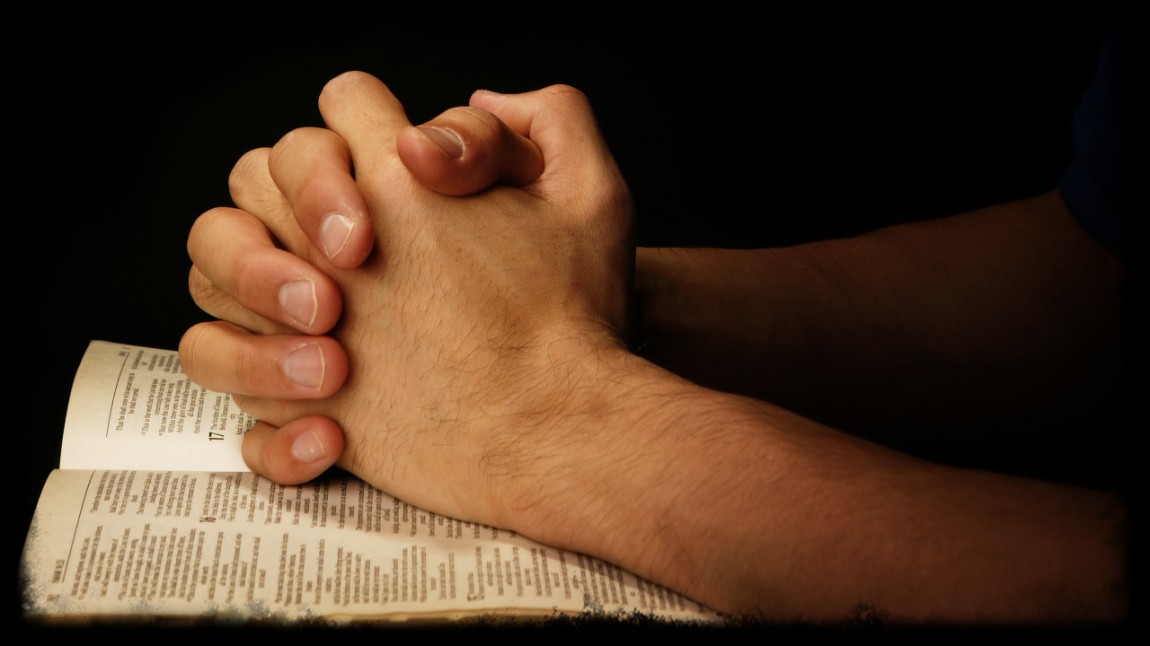 The Monthly Prayer Calendar is available here.
Housegroups
For more information about fellowship groups meeting within St Michael's, please call Alison Miller 844992, Margaret Henderson 844787 or Barbara Thomson 845705.
The Help Centre
Offers information covering many concerns. Wondering where to access support for yourself or another? Tel 842646, or look at www.helpcentre.org.uk
Bereavement Support
The Bereavement Support Team offers confidential one-to-one support with the aim of helping you make sense of the painful and bewildering array of responses to bereavement, and to help you adapt to the loss. Positive Pathways informal support group meets fortnightly in the Canal Tearoom. Contact Sheila Rae 847538 or sheila.ruth.rae@gmail.com.
Making Him Known to Others
Prayer News Bulletin
Copies of Lorna Ferguson's Prayer News Bulletin are now available at the back of the church.
CDs-Church Service
If you would like to borrow a recording of previous services, you will find CDs at the Church shop. A recording of the sermon is available weekly via podcast here.
Serving Him Together
Seedlings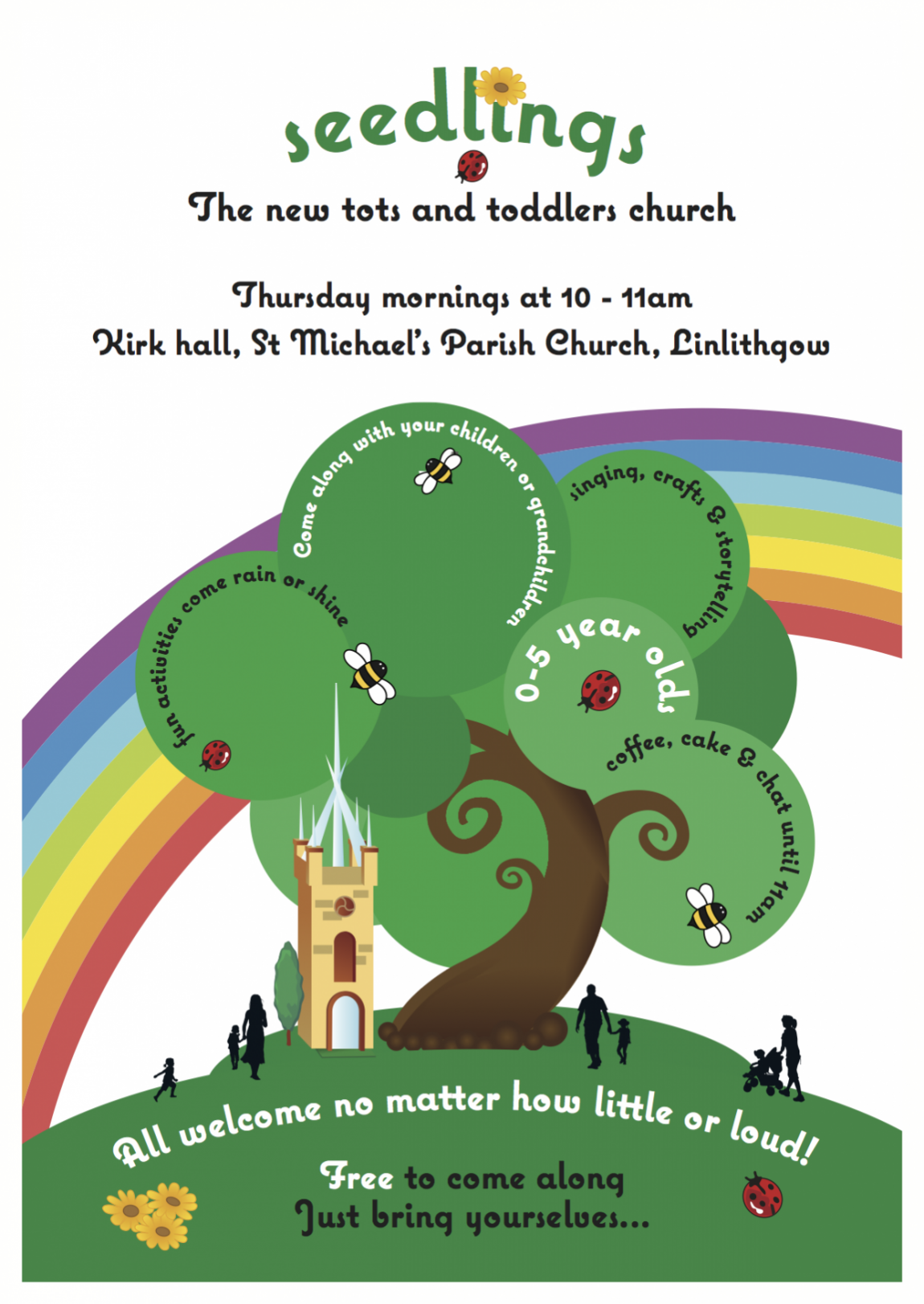 Seedlings - Every Thursday 10am–11am
If you are at home with your wee ones why not come along instead of sitting in on your own. If your a Mum, Dad, Granny, Grandpa or babysitter just pop along to the Kirk hall for 10 am. A really warm welcome awaits with songs,crafts, a wee prayer, lots of fun and tea and coffee too. No church connection needed at all. Hope to see you there. No cost. Please contact the office for further info, Tel: 842188.
The Guild
The Guild will be joined by St Ninian's-Craigmailen Guild on Monday 17 December for our Christmas Party in Linlithgow Bowling Club at 6.30 for 7pm. Further info contact Margaret Henderson Tel no 01506 844787..
Life and Work
The January issue is available for collection at the back of the church
Time of Stillness
On Thursdays at 2pm we meet in St Katherine's Aisle. Entrance via south door during winter opening hours. Come and discover what 15 minutes of stillness can do for you. Tea and cake afterwards. All welcome.
Chapters Book Club
Our book club meets on the first Thursday of every month 3.15-4.30pm, Cross House. Coffee cake and book discussion. Our book of choice is 'Shoes for Anthony" by Emma Kennedy. All welcome. Info from Sally Chambers (07732722146). Next review meeting Thursday 10 January.
General Notices
Bethany
Prayer Answered! Bethany are pleased to announce that, along with finance to buy the food, teams have been provided to feed up to 70 homeless of Edinburgh on Christmas Day and Boxing day. Thanks to those in St Michael's who offered but we are not needed. Please pray for Jill Allatt and her team from the Kirk who are feeding them on the 28 December.
Aged 18-30?
Come and get together at an informal Christmas Eve Celebration straight after the Christingle Service in the Adam Room (7.30-8.30ish). Light refreshments and games, but most of all chat! Please contact alisonleesmiller@gmail.com. Parents please pass on!"
Christian Aid
Advent reminds us that the babe of Bethlehem was to have a bias towards the Poor. Christian Aid Week reminds us each year to have that same bias. The dates of the 2019 Week are 12 to 18 May. Simply post your name and address into Cross House at any time between now and 31 March 2019 or email wandeross@hotmail.com
Stamp Appeal 2018
Stamp Appeal: How many Christmas cards will you receive? Whether it is 1 or 100, every stamp is important to the World Mission Council's Stamp Appeal, which supports centres for young people with learning difficulties in the Ukraine. Please put your stamps into the collection boxes in the Church and the Kirk Hall foyer.
World Mission
The Oct/Nov edition of WM (World Mission) magazine is in the church (on table opposite the stall), which is free to take. The theme "Being International Family" covering stories about Czech/Scottish friendships, reflections on an interfaith conference with ideas of new resources to help us all engage with the World Church. News also of an Israel Palestine 10-day study tour run by CoS from 21-31 March 2019 – details on the back page or contact WM: wmoutreach@churchofscotland.org.uk Tel: 0131 225 5722.
Data Protection
The General Data Protection Regulation (GDPR) came into effect in the UK on 25 May 2018. It replaces the existing law on data protection (the Data Protection Act 1998) and gives individuals more rights and protections with regard to how their personal data is used by organisations.
St.Michael's have adopted the following :
Gift Aid Giving
Did you know that the church can claim 25p for every £ given if the donor is a UK taxpayer and signs a Gift Aid declaration? This is true whether payments are made by regular standing order, via freewill envelopes, or by other identifiable means. For more information, or to set up/amend an existing arrangement please contact the Gift Aid Convener in confidence - Andrew Jones – at giving@stmichaels-parish.org.uk or on 01506 840914.
Crossreach
The latest Crossreach Newsletter is available here. More information about Crossreach itself is available on their website.
Choir Practice
Thursday 20 December at 7.30pm, all adults welcome. Further info: matt@stmichaels-parish.org.uk
Bethany Pennies
The latest donation sent to Bethany Christian Trust was for £241.18. Thank you to all who contributed
Sunshine Sing-along for Memory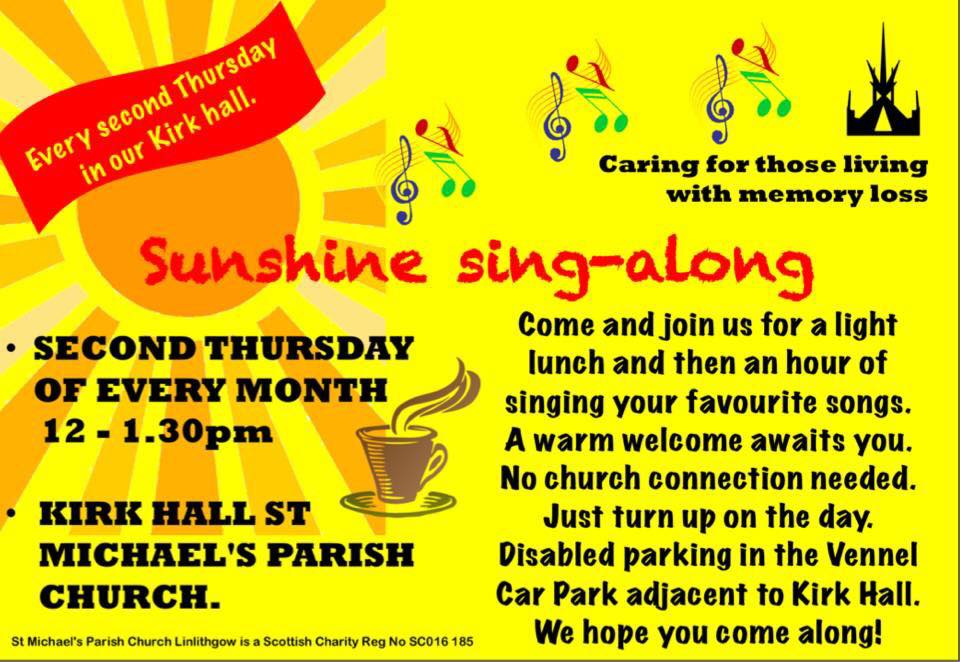 Takes place in the Kirk Hall on the second Thursday of each month 12–1.30pm. All those living with memory loss and their carers are welcome. No church connection necessary. Light lunch and singing. Further info from Norma Costley 01506 843255. Next Sing-along Thursday 10 January.